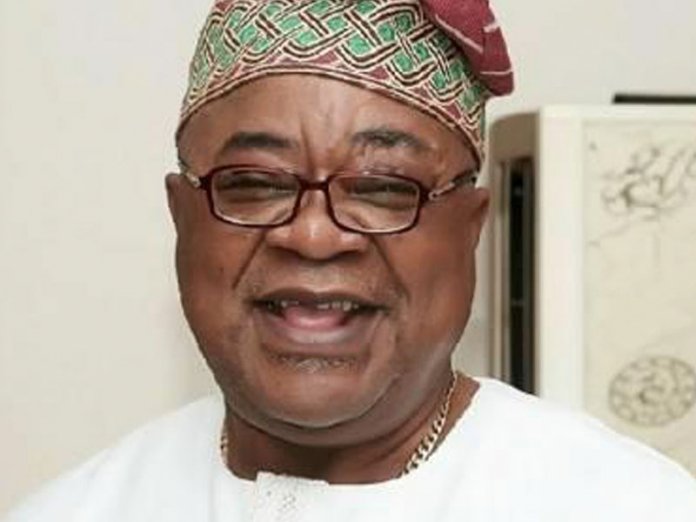 •Obasanjo, Jonathan, Atiku, Tinubu, Gbajabiamila, Sanwo-Olu, Fayemi, others pay tributes
Deji Elumoye, Chuks Okocha, Adedayo Akinwale, Udora Orizu in Abuja, Segun James in Lagos, Kemi Olaitan in Ibadan, Victor Ogunje in Ado Ekiti, and James Sowole in Abeokuta
President Muhammadu Buhari, yesterday, commiserated with the family of former governor of Oyo State, Otunba Christopher Alao-Akala, and the government and people of the state on the demise of the ex-governor. Alao-Akala, who was governor of Oyo State between 2007 and 2011, died at his Ogbomoso country home early yesterday at 71.
A statement by the family, signed by his son, Olamijuwonlo Alao-Akala, said their father died peacefully.
The statement read, "With humble acceptance of the will of God, we announce the passing of our grandfather, father, husband, and leader, His Excellency, Otunba (Dr.) Christopher Adebayo Alao-Akala, JP, PSC, which occurred on Wednesday, 12th January 2022.
"Baba died peacefully in Ogbomoso at the age of 71. Omo Iya Alaro will remain in our hearts forever. Rest in Peace Baba.
"Burial arrangements will be announced by the family at a later date."
Buhari, in a release by his media adviser, Femi Adesina, said Alao-Akala, as a former police officer and civilian governor with an extensive political career, served the country and the people of Oyo State with dedication, making very important contributions to the development of institutions and communities.
The president hoped that family, friends and associates, who mourned the former governor, would honour his vision of entrenching good governance in the country and passion to lift the downtrodden in the society. He prayed God Almighty to grant the departed eternal rest and comfort those he left behind.
The late All Progressives Congress (APC) chieftain was said to be full of life Tuesday night, during which he spent time with his children before he went to bed.
Oyo State Governor 'Seyi Makinde, on learning of Alao-Akala's passing, abruptly ended the 2022 Inter-faith Prayer Service organised by the state's civil service. Makinde called for a minute silence in memory of the former governor, who also served as deputy governor of the state between 2003 and 2007, and prayed to God to grant repose to his soul.
The governor condoled with the immediate family of the deceased, his political associates, and residents of the state.
Makinde stated at the inter-faith prayer meeting, "I am here with the speech prepared for this event but I have just been informed about the death of former governor of the state, Otunba Adebayo Akala. I pray that God grant his loved ones and all his well-wishers the fortitude to bear the irreparable loss."
Obasanjo: An Amiable Cop, Akala Was Above Narrow Precincts
Former President Olusegun Obasanjo said the vacuum created by the death of Chief Adebayo Alao-Akala would be difficult to fill. Obasanjo urged the former governor's admirers to put their faith in the Almighty Creator in the present situation.
In a condolence letter to the head of Akala Family in Ibadan, Obasanjo said his death "is, indeed, a grievous loss to the entire members of his family, his friends and associates, Oyo State and, indeed, the entire nation." He added that Alao-Akala as a cop transcended narrow precincts.
Obasanjo's letter, which was made available to newsmen in Abeokuta by his Special Assistant on Media, Kehinde Akinyemi, stated, "Otunba Alao-Akala was an outstanding Nigerian and leader, who contributed immensely to the development and stability of Oyo State and Nigeria as a whole.
"As an amiable cop, he transcended the narrow precincts of what used to be cultural limitation to tower over his peers. From a distinguished career of a crime buster, he straddled the 'Pacesetter State' like a colossus. His humble career as a policeman did not stymie his ascendancy to the height of a governor and, unprecedentedly, crowned him as a high achieving deputy governor, who became an acting governor and later governor.
"There seemed to be nothing stopping the effervescent enigma. His politics had been that of a thoroughbred statesman determined to make the critical difference in the lives of the people he led and he succeeded in building confidence across a wide spectrum of the social strata and validated the mandate bestowed on him as the Executive Governor of Oyo State. Indeed, the vacuum created by his death would, undoubtedly, be difficult to fill. I assure you that we all share your sense of deep grief."
Jonathan: He Was a Committed Public Servant
Former President Goodluck Jonathan, yesterday, joined other Nigerians to mourn Alao-Akala, saying the deceased was a dedicated public servant, who served the nation to the best of his abilities.
Stressing that the late politician died at a time his services were still needed, Jonathan stated, "He was a public-spirited individual, who excelled in many endeavours in both his private and public life, and never got tired of giving his best to the task of nation-building.
"As a police officer, he rose through the ranks and diligently served the nation in various capacities before retiring as an Assistant Commissioner of Police. He was a key player in the Fourth Republic politics, especially, in Oyo State, where he served as deputy governor and governor."
The former president highlighted Alao-Akala's considerable achievements, saying he would "be sadly missed, because he still had a lot to offer, given his experience, wisdom and determination to contribute to the development of the nation."
Atiku: His Record as Governor Remains Enviable
Former Vice President Atiku Abubakar mourned the passing of Otunba Adebayo Alao-Akala, but took solace in his enviable record as governor.
While describing his death as a rude shock, Atiku, in a press release by his media office, said Alao-Akala was a prolific politician. He condoled with the people and government of Oyo State on the loss of a notable leader, and urged his family and associates to take solace in the good legacies he left behind.
Tinubu: Alao-Akala's Passing is Disheartening
National leader of All Progressives Congress (APC), Asiwaju Bola Tinubu, said the death of Otunba Adebayo Alao-Akala, a month after the death of Soun of Ogbomoso, Oba Jimoh Oyewumi, was disheartening.
In a condolence statement by his media office, signed by Mr. Tunde Rahman, Tinubu said, "I received the news of the passing of former governor of Oyo State, Otunba Alao-Akala, with shock and deep sadness.
"Coming a month after the death of Soun of Ogbomoso, Oba Jimoh Oyewumi, the loss of Alao- Akala, another eminent son of Ogbomoso and Oyo State, is disheartening. Alao-Akala was a leader and prominent politician, who did his best not only for his Ogbomoso hometown, but also Oyo State and Nigeria.
"He served the country meritoriously in the police force, rising to the top of the ladder before venturing into politics. As governor of Oyo State, he contributed his quota to the development of the state and tried to enhance the welfare of the people.
"Alao-Akala passed on when the state and, particularly, our All Progressives Congress, needed his services. His wisdom and experience were required to help resolve the leadership crisis in the state and weld the party together once again."
Alao-Akala Was a Strong APC Pillar, Says Gbajabiamila
Speaker of the House of Representatives, Hon. Femi Gbajabiamila, expressed sadness over the death of Otunba Adebayo Alao-Akala, and described him as a strong pillar of the APC. Gbajabiamila, in a statement by his Special Adviser on Media and Publicity, Lanre Lasisi, recalled the good leadership Alao-Akala provided in Oyo State, when he served as governor, saying he made his mark in the state.
As a chieftain of the APC, Gbajabiamila said Alao-Akala was at the forefront of efforts to promote progressive politics. Sending his condolences to the Alao-Akala family, the people and the government of Oyo State, the speaker prayed God to grant Alao-Akala's soul eternal rest.
Sanwo-Olu: His Demise Has Opened a Deep Sore
Lagos State Governor, Mr. Babajide Sanwo-Olu, said the death of Otunba Adebayo Alao-Akala had opened a deep sore in the hearts of the people of Oyo State and Nigeria, who looked up to him as a rallying point and a political stabiliser.
Sanwo-Olu, who commiserated with his Oyo State counterpart, Seyi Makinde, and the APC family in the state, also consoled the deceased's family, noting that the former governor's service to the people of Ogbomoso, Oyo State and Nigeria as a whole remained his enduring legacy.
Sanwo-Olu stated, "On behalf of the government and people of Lagos, I commiserate with my brother, the Oyo State Governor, Engr. Seyi Makinde, sons and daughters of Ogbomoso, people of Oyo State, the deceased family, friends, and political associates on the death of Otunba Christopher Adebayo Alao-Akala.
"The passage of Otunba Alao-Akala hurts me, because of the critical role he was playing in Oyo APC before his demise. My heart was filled with grief, when I was informed about his death.
"Otunba Alao-Akala was more than a politician. He was a man of many parts, whose managerial skills and experience are required at this critical period in our national life, especially, in our party, APC, ahead of the 2023 general election.
"He served Oyo State passionately, first, as a deputy governor and later as governor. He did his best in contributing his quota to the growth and development of Ogbomoso, as council chairman as well as Oyo State as a governor. He also made his mark in the Nigeria Police, where he retired as Assistant Commissioner of Police in 1995 before venturing into politics."
Sanwo-Olu urged the family of the deceased to take heart, saying, "The death of loved ones is usually one of the most painful episodes in peoples' lives but we must realise that death is inevitable. We all will die someday. Therefore, we must muster enough strength to carry on."
Alao-Akala Was a Pragmatic Leader, Says Fayemi
Ekiti State Governor, Dr. Kayode Fayemi, condoled with the government and people of Oyo State on the death of Otunba Christopher Adebayo Alao-Akala, describing him as a pragmatic leader.
Extolling the virtues of the deceased, in a statement by his Chief Press Secretary, Yinka Oyebode, Fayemi said the late Alao-Akala was a colourful politician, pragmatic leader, and a man of the people in and out of office. Fayemi said he was shocked by the death of the former governor, who, according to him, was in his usual high spirit during their last meeting and showed no sign of illness.
The Ekiti State governor described Alao-Akala as an apostle of politics without bitterness and a leader, whose interaction, influence and network cut across political divides. He noted that Alao-Akala played a prominent role in the restoration of peace to the Oyo State chapter of APC and inter-party harmony in the state.
According to Fayemi, Alao-Akala's life was defined by service to the people, first, as a police officer, rising to the rank of Assistant Commissioner, and later, as a politician, public servant, and elder statesman, whose doors were always open to the common man.
Buni: He Increased the Fortunes of APC
Chairman of the Caretaker Extraordinary Convention Planning Committee of the All Progressives Congress (APC) and Governor, Yobe State, Mai Mala Buni, described Adebayo Alao-Akala as a man, who increased the fortunes of APC in Oyo and the country at large.
Buni, in a statement, expressed shock over Alao-Akala's death, stating, "The APC has received with sorrow, the death of former Governor of Oyo State and APC chieftain in the state. It is with grief and sorrow that we lost His Excellency, Alao Akala at this moment of our national life."
Buni said Alao-Akala was a national political asset that was sought after by all political parties, adding, "It is saddening that we lost this asset at a time when we commenced the process to our next general election."
He condoled with Alao-Akala's family, the government and people of Oyo State over the huge loss.
Chairman, Senate Committee on Local Content and senator for Oyo Central, Senator Teslim Folarin, also said he was heartbroken by the news of Alao-Akala's death, lamenting that Oyo State has lost a phenomenal statesman.
Folarin, in a statement he personally signed, stated that the former governor's death came "at a crucial time his leadership and wise counsel are needed, especially, by the All Progressives Congress (APC) in Oyo State.
"I'm deeply heartbroken after receiving the shocking news of our leader's demise. I still could not believe that Oga Akala has left us. Who are we to question God's Decision?"
Similarly, the APC in the state described Alao-Akala's death as sad and shocking. A statement by the Caretaker Publicity Secretary of the party in the state, Dr. AbdulAzeez Olatunde, said Oyo APC lost one of its pillars.
Olatunde stated, "Less than two years after the loss of His Excellency, Senator Abiola Adeyemi Akanji Ajimobi, APC in Oyo State, on Wednesday, 12th January, 2022, shockingly got the sad news of the demise of one of the pillars of the party, His Excellency, Christopher Adebayo Alao-Akala.
"APC commiserates with party members in Oyo State and diaspora, especially, all Oyo State indigenes on the sad and shocking news.
"On behalf of the caretaker chairman of APC in Oyo State, Chief Akin Oke, the state executives, and all the APC members in Oyo State, we commiserate with the family of our departed former governor."