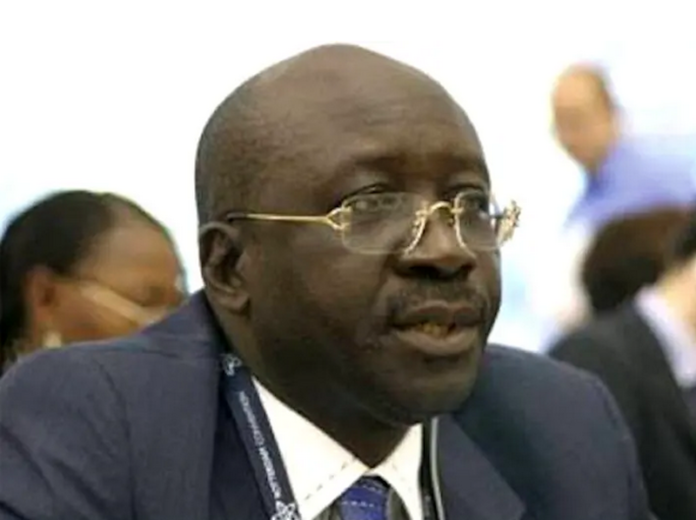 The newly affirmed National Chairman of the Peoples Democratic Party (PDP), Dr. Iyorchia Ayu, has said the mission of the party under his leadership was to rescue the nation from the current mess, occasioned by the misrule of the All Progressives Congress (APC)-led government since 2015.
Ayu, who spoke early Sunday morning also appreciated the PDP delegates and the party's governors for conducting a smooth and peaceful national convention
He however, dared the APC to conduct its national convention from the over 90 states factional chairmen, while stating that some members of the party thought that the PDP would break up as the aftermath of the convention.
This is as a former Deputy President of the Senate, Senator Ike Ekweremadu, has congratulated Ayu, and other 20 national officers-elect, who emerged at the just concluded national convention of the party.
In his appreciation speech after 3,426 delegates affirmed his election as the chairman, Ayu said, "I want to sincerely appreciate the PDP family. Today is simply a thank you address. When we started this party 23 years ago, we never in any way imagined that the journey will get us to this stage.
"A stage, where we ruled for 16 years, we went into rough times, but for anybody, who bothered to see, PDP is back. PDP is back to rescue Nigeria from the terrible mess we have been in, in the last six years. I want to appreciate all of you, who have taken time as delegates, as observers, as supporters, as members of the media, as members of the security services, who have made this event wonderful.
"Many people imagined that this convention will lead to the break-up of the PDP. Those people, who are dreaming like that, they were dreaming in wonderland. Their dreaming were misplaced.
"Those, who have lost hope should know that Nigeria is not a divided country. A small group of people decided to divide Nigeria. PDP will come back to unite our people, put them together, North and South, East and West.
"We will move ahead to develop this country. We did it before. We are going to do it again. I want to thank the governors. I want to thank the delegates. I want to thank our supporters and every single person, who has made this event such a huge success.
"I believe the other party can never hold a convention, because even state congress, they cannot hold. They have produced 92 state chairmen for 36 states, how can they hold a successful convention, which the PDP has done? We are waiting for them. This is a challenge to them. Let them come on pole searches, successful on ledger with what the PDP has done. This is a quit notice. PDP is back and is taking back the country to develop it," he said.
The PDP elected a new set of members into its National Working Committee (NWC) to take over its leadership.
Twenty-one people were elected at its national convention, which began on Saturday, October 30, and lasted till Sunday, October 31, at the Eagle Square, Abuja.
Ayu was declared national chairman after 3,426 delegates affirmed his unopposed position. The outcome of the election was announced in the early hours of yesterday.
In the same manner, Senator Samuel Anyanwu, from Southeast emerged the National Secretary of the party unopposed.
THISDAY had earlier reported that 18 out of the 21 National Working Committee (NWC) offices were unopposed.
The office of the Deputy National Chairman (South), was keenly contested and Amb. Taofeek Arapaja, was declared winner after polling 2,004 votes at the party's convention.
His closest contender, Prince Olagunsoye Oyinlola, garnered 705 votes.
The position of the National Youth Leader, was won by Mohammed Kadade Sulieman with 3,072 against his closest rival, Usman ElKudan, who polled 219, while the Deputy National Chairman (North), was clinched by Umar Iliya Damagum, who polled 2,222 to defeat former Minister of Women Affairs, Hajia Maryam Ina Ciroma, who polled 365.
Chairman of the Convention Planning Committee and Chairman, Electoral Sub-Committee of the convention, Governor Ahmadu Umaru Fintiri of Adamawa State, announced the results and commended party faithful for what he described as a successful convention.
Other elected officers through the party's unopposed contest that scored 3,426 votes were Ahmed Yayari Mohammed as national treasurer and Kamaldeen Adeyemi Ajibade, the national legal adviser.
Umar Bature is the new national organising secretary, Daniel Woyegikuro emerged national financial secretary, Stella Effah-Attoe is the new national woman leader and Okechukwu Obiechina Daniel, national auditor.
Setonji Koshoede is the new deputy national secretary, Ndubisi Eneh David, deputy national treasurer, Ibrahim Abdullahi is the deputy national publicity secretary, Ighoyota Amori, deputy national organising secretary, Adamu Kamale, deputy national financial secretary, Hajaja Yakubu Wanka, deputy national woman leader, Timothy Osadolor, deputy national youth leader and Okechukwu Osuoha, deputy national legal adviser.
Full List of New PDP National Officials:
National Chairman – Iyorchia Ayu
Deputy National Chairman (North) – Umar Damagum (Contested)
Deputy National Chairman (South) – Taofeek Arapaja (Contested)
National Secretary – Samuel Anyanwu (Unopposed)
National Treasurer – Ahmed Mohammed (Unopposed)
National Organising Secretary – Umar Bature (Unopposed)
National Financial Secretary – Daniel Woyegikuro (Unopposed)
National Women's Leader – Professor Stella Effah-Attoe (Unopposed)
National Youth Leader – Muhammed Suleiman (Contested)
National Legal Adviser – Kamaldeen Ajibade (Unopposed)
National Publicity Secretary – Debo Ologunagba (Unopposed)
National Auditor – Okechuckwu Daniel (Unopposed)
Deputy National Secretary – Setoji Kosheodo (Unopposed)
Deputy National Treasurer – Ndubisi David (Unopposed)
Deputy National Publicity Secretary – Ibrahim Abdullahi (Unopposed)
Deputy National Organising Secretary – Ighoyota Amori (Unopposed)
Deputy National Financial Secretary – Adamu Kamale (Unopposed)
Deputy National Women's Leader – Hajara Wanka (Unopposed)
Deputy National Youth Leader – Timothy Osadolor (Unopposed)
Deputy National Legal Adviser – Okechukwu Osuoha (Unopposed)
Deputy National Auditor – Abdulrahman Mohammed (Unopposed)
Meanwhile, Ekweremadu, in a statement by his Media Adviser, Uche Anichukwu, in Abuja on Sunday, said the emergence of Ayu and other national officers would give the PDP the much-needed renewed vigour and focus required to rescue Nigeria.
The ranking Senator also commended the Elder Yemi Akinnwonmi-led leadership of the party and the Governor Ahmadu Fintiri-led National Convention Planning Committee for seamless and transparent elections, saying the PDP has disappointed her evil wishers.
His words: "This is hearty congratulations to the newly elected national officers of our great party, the PDP. Given the pedigree and antecedents of our National Chairman-elect and his team, I have no doubt that we got it right.
"Nigeria is in dire need of rescue from the clutches of divisiveness, criminal cartels, vaunting bandits and insurgents, collapsing economy (to put it mildly), and secessionist agitations occasioned by injustice and marginalisation.
"There is no doubt that we have in place a highly promising team led by a widely-accepted, disciplined, experienced, and pan-Nigerian politician in the person of Distinguished Senator Iyorchia Ayu, that will help mobilise party faithful and Nigerians at home and the diaspora for the success of this mission".