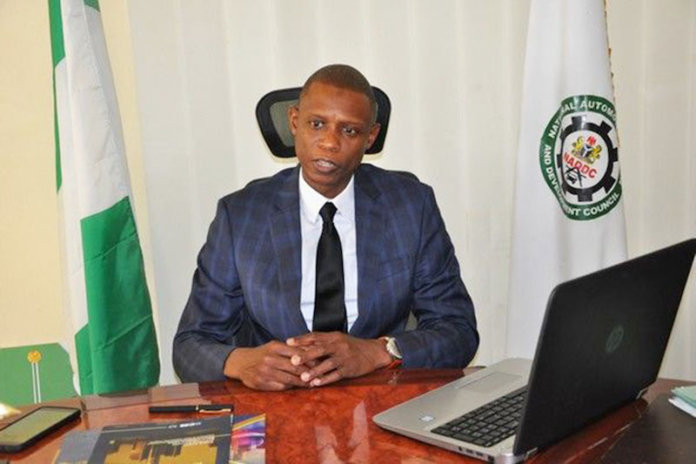 The implementation of the proposed national End-of-Life Vehicles (ELV) recycling regulation in the country is expected to generate about N100 billion in annual revenues to the federal government, Director-General, National Automotive Design and Development Council (NADDC), Mr. Jelani Aliyu has said.
The policy, he added, would further create 40,000 direct and indirect jobs and among other things protect the environment from hazards as well as keep the roads and highways safer.
Aliyu, while commenting on the proposed vehicle recycling policy which is awaiting regulatory approval, said one of the ways by which Nigeria could jump-start clean mobility is by creating policies and regulations to encourage automotive recycling plants.
He said the council had proposed to develop pilot automotive recycling plant for environmentally friendly recycling and material recovery accessible to the public.
Speaking at a one-day validation workshop on End-of-Life Vehicles Regulation and presentation of data baseline study on automotive waste recycling in Nigeria, which was organized by the NADDC, in partnership with the and Economic Development Initiative of Nigeria (REDIN) and the National Environmental Standards and Regulations Enforcement Agency (NESREA), Aliyu, described the ELVs as vehicles that reached end-of-life yearly due to age, poor maintenance and traffic accidents.
He said these vehicles become traffic and environmental hazard, and have the potential of polluting the environment if not properly disposed of, causing long term negative environmental impact.
He stated that proper management of ELVs could transform the potential environmental hazards to useful raw material which can be utilised by industries and create thousands of job opportunities for the teeming youths.
He pointed out that ELVs are currently a global concern as automobiles ownership is increasing rapidly adding that the automobile industry had the most recycled products in the world with a global market of over $60 billion annually.
According to him, over 80 per cent of material from ELV could be recycled to manufacture new vehicles or as raw material for other industries, stressing that recycling of expired vehicles greatly reduces environmental pollution created by reckless dumping.
In 2018, National Bureau of Statistics (NBS) estimated that Nigeria had about 11.8 million vehicles on road and the number is increasing with population growth, which remained a huge resource for secondary raw materials for the country.
However, NADDC boss said in line with the growing need for proper recycling of ELVs and the environmental and economic sustainability of the sector, the council in collaboration with REDIN and NESREA developed a national regulation for End-of-Life Vehicles recycling in Nigeria.
He said, "The goal of this regulation is to introduce a vehicle collection and recycling framework across Nigeria and to build automotive recycling facilities that support local industries and create thousands of jobs for the citizens.
"To accomplish this goal, NADDC obtained evidence -based information to establish an ELV recycling regulation to facilitate cooperation between members of the existing ELV scrap metal recycling value chain and design a framework for coordinating the ELV recycling industry in Nigeria."
He said the management of ELVs was of vital importance for environmental conservation, investment opportunities and sustainable development.
He pointed out that the proposed ELV regulation was modeled after the Japanese and Dutch models, two countries with highest automotive recycling rates in the world.
Aliyu said if passed, this regulation would be a landmark achievement of the country and the first in Africa as it will require people to take responsibility for the waste their vehicles create as it is currently done globally.
He added that the objectives of the policy are to among other things ensure proper management of ELVs in the country, ensure effective use of resources by reducing waste from automotive usage as well as ensure efficient recycling and usage of recycled automotive parts and generation of revenue for the government.
Also, in his presentation on the planned ELV policy, Chief Executive of REDIN, Mr. Terseer Ugbo, said automobiles remained the most recycled consumer products in the world adding that Nigeria with a population of over 200 million people and more than 11 million private and commercial vehicles on the roads, generates over 400,000 scrap vehicles every year.
He said only a fraction is collected and dismantled by the informal metal scrap market, while a majority is abandoned at private and public spaces around the country.
Ugbo said the proposed regulation will ensure an economically and environmentally vibrant industry in the collection, dismantling, recycling and recovery of valuable materials in the automotive sector and create thousands of jobs and wealth for Nigerians.
According to him, ELV recycling project will develop the automotive recycling sector and create 40,000 direct and indirect jobs, recycle over 140,000tons of ferrous and non-ferrous metals annually, recycle over 1,000,000 used batteries annually and recycle over two million used tyres annually.
The policy would also help to recycle millions of litters of used engine oils annually, generate over N100 billion in annual revenue from the sector, protect the environment from hazards and keep the roads and highways safer.
He explained that a one-off fee of N5,000 had been proposed under the policy which will be made at the point of registration of the car with the vehicle inspection office or state vehicle registration authority in line with the Extended Producer Responsibility programme.
He said the fund will potentially generate N25 billion in the first year of implementation from vehicles already on our roads and N2.5billion annually from new car registrations.
According to him, ARF fund will be managed by the NADDC directly or through the Bank of Industry to issue low interest loans and grants for the establishment of recycling facilities for various automotive waste.
The funds would also be used to fund research and development of automotive technical colleges and auto parts manufacturing projects, he added.