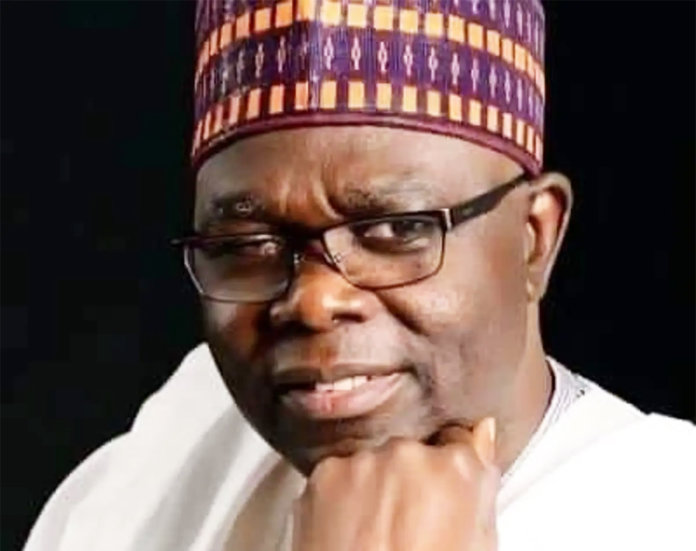 I left APC for many reasons. It's not only me that is frustrated, I have been in politics for 33 years. Politics is a collective enterprise, like we all worked together for certain vision, objectives goals and mission. We wanted to accomplish the "O to ge" revolution to remove Bukola Saraki and it has been done. After the victory, they didn't know how to use the victory. After the victory, he has never been seen as a leader, as a people, as stakeholders, cohesively working on how to run the government. But when you talk, they will be blackmailing you that we want the governor to give us money, and it's far from that. I campaigned for the governor, stuck out my credibility, my neck and said vote for this governor, that he will do this and that for you people. So, it's not a matter of money, it's based on our own credibility that is at stake.
I pity people like Akogun Iyiola Oyedepo that went to radio stations and said the government would give them free education, that the APC-led government would make sure that they buy two tractors per ward, that the salary of civil servants would be improved and were comparing the salary with that of Osun, Oyo and Niger states then. Since then, have we sat down as stakeholders to ascertain if all these promises have been met? I normally send the governor messages on WhatsApp and sms, that 'your Excellency can you do this? can you do that?' At times, he will reply, but to sit down one on one, no. I only know that he visited my house in Abuja when he wanted to greet (Asiwaju Bola) Tinubu because my house is opposite Tinubu's house in Abuja. Apart from that, to sit down and discuss serious matters in the state like 'Hon Issa, I want to work in Baruten, what are the major priorities of your people?' is difficult for him. He believes that we are no more relevant and that it's the Speaker, Rt. Hon. Yakubu Danladi-Salihu that is relevant and the younger house of assembly members that are running government.
Your daughter is one of the appointees of the governor and you have left the party, won't there be a friction in the family?
Family friction as how? Don't you know Buba Galadima's daughter is working in Presidential villa? I'm telling you if you don't know, and Buba Galadima is one of the strong oppositions to Buhari's government. When we started this present administration in 1999, Baba Saraki was in APP but Dr. Bukola Saraki was appointed as one of the presidential Aides to former president Olusegun Obasanjo. Even then, if we want to go back to history, Umaru Yar Adua of blessed memory, his father was in NPN, Umar Yar Adua was in PRP. So, these are clear examples where fathers and daughters might not be in the same political party. That doesn't mean that the families are not the same.
She is 31; she has the right to decide on what to do. In some countries she can be a governor, she has a right to decide what she wants and I cannot say leave the government or that she would ask me to come back to government by force. I'm a liberal person and educated, I'm not illiterate. I'm not a religion fanatic. My daughter is a medical doctor, I'm a pharmacist. She knows what she wants and I know what I want. When it comes to family matter, she will bend down and greet me.
What is your assessment of APC in Kwara State?
APC did a propaganda in Kwara, more of social media outlook. To the best of my ability, I have been in government for so many years, you as journalist, can you tell me the major policy direction of AbdulRazaq's government in Kwara? Can you tell me what the major projects, the cardinal policy are? Is it education? Has he come out to say that he wants to give free education from primary to junior secondary school? Has the governor come out to say what his focus is on agriculture? For young men, I want to create farm hub? I want to buy tractor for each local government? Or that he wants to do agriculture by this means? Or is it integrated rural development? Or that he wants to open all rural areas? Or is it okay that he wants to ensure that medical facilities are the main hub of this government or is he making drugs available to the poor residents of Kwara? I cannot hold any barometer of any particular policy that I can hold Governor AbdulRazaq responsible, that this is the target he sets for himself. How far has he gone? Any government must be able to set target to with policy pronouncements that the public will use to measure his achievements at the end of his tenure. And on that basis, it's difficult for me to say whether he has done well or not. He said he wanted to minimise spending, but I have not seen anything physical that has changed, even in government in terms of expenditure profile.
Before your defection to PDP, were you able to meet to discuss him to discuss these problems?
Well, with all respect, the government of Mallam AbdulRahman AbdulRazaq has done over two years. The first one week, I looked for appointment to see him but I couldn't see him. I tried to visit him even at the demise of his father to pay condolence to him; I wasn't able to see him. We have never seen since he came to power, we have never had an opportunity, as a critical stakeholder, to meet with the Governor to share my ideas. And the governor has never invited me to seek my opinion on any matter. He has never given me any assignment to do. As far as I'm concerned, I've never discussed governance with him.
Do you have any regret leaving APC?
Regret about what? I don't regret anything in my life. If you don't try, you cannot succeed, when you try something, it cannot be termed as regret. You either succeed or you fail. I have been, all my life, a product of Saraki and I'm a member of Liberal Conservative but I joined the Progressives for a test and I have discovered how they run. Baba Saraki will think of what to do, and will involve everyone. Let me give you an example, in 2004 when we wanted to go for local governments elections, Baba consulted me about the candidates as the Speaker, he said it's my domain.
Kaiama and Baruten issue had been resolved, we have two or three candidates but Kaiama, you have three or four, what can you say about these three or four people? After telling him my feelings, I asked him to call Emir of Kaiama and Baba will say 'no, I want to send you to him.' I left Saraki's house 8pm and I was in Kaiama midnight and came back to give him the report around 5am same day because he believed in consultation. We saw crisis all over in APC, but we were not carried along. The governor never allowed his commissioners to give their views on state matters at the executive meetings and it's an act of dictatorship, a tyrant. I've been a member of state executive as a Speaker and I've been a member of federal executive council as a minister and we normally give our views.
There are speculation that you dumped APC for PDP to contest for 2023 governorship to realise the agitation of Kwara North interest. What is your take on this?
Kwara north agitation is a legitimate one, and anyway, nobody will give you power on a platter of gold without agitation. If Yoruba didn't agitate after the annulment of June 12 1993 presidential election to the extent of forming NADECO, OPC to fight the injustice and made the country ungovernable, Chief Obasanjo wouldn't have become the president. That is the same model the Igbo people are using now, although they are doing it wrongly instead of using persuasion and diplomacy. The Kanu-led IPOB made use of confrontation and force, destabilisation, killing maiming, among others. You can't get into power like that, if you get power like that, who will follow you. So, these are the difference.
I have the feeling that Kwara north agenda, that we have a state that is almost 50 years old and we are in tripod, and a section of the tripod have been trying to be in power for almost 70% or 80% of the 50 years, at the exclusion of others and this will cause instability and disunity and discontentment in the system. There is need for equity, fairness, justice so that people will have sense of belonging. It is this type of frustration that made part of Borgu to match with Niger State. When the situation became hopeless, we have to find a way out. Some people are agitating that some of us want to join Benin Republic to the extent that it appears we are no more relevant in Kwara State. So, we are looking at the issue, as long as we want stability, progress and unity of the state, they should think of equity, justice and fair play.
As far as we are concerned, our people believe that any political party that gives its gubernatorial candidate to Kwara North, that's the party that will get 80% of our votes. In 2019, we gave AbdulRahman AbdulRazaq 87% of our block votes and he knows. Former Governor Bukola Saraki in 2007, Baruten and other areas in Kwara north gave him 97% votes. We are loyal and committed to this agenda so much that the youths and other stakeholders in Kwara north will vote enmass for any party that gives its gubernatorial ticket to Kwara north, let it be PPP or SDP that gaves us gubernatorial candidate, even if we waste our votes in protest, we don't mind.
What's your expectation in the PDP?
I am just coming in. I left the party about four years ago, so I don't know what's happening there. I was a member of fthe board of trustees of PDP and I was in the party for 18 years. Now I'm back, I know they have good plans and whatever happens PDP knows how to manage crisis more than APC, most of the people who are dramatis personnel of APC have passed through PDP; those who are calling the shots in the political space of Nigeria today are in PDP. Look at how the issue of national chairmanship of PDP was resolved; whether temporary or otherwise, there was a semblance of political maturity in the party.
Look at APC in Kwara, the Governor has been at loggerheads with the chairman, that he should be removed. Some of us who have political experience, say he shouldn't remove him but wait until his tenure ends, tell us the person you want. We have seen a situation whereby a governor doesn't like the party chairman but made him irrelevant and made use of his Deputy. I'm disappointed that the national secretariat of APC and the presidency refused to set up peace committee on crisis in Kwara, because politics is about crisis management and conflict resolution. So, there is crisis management experts in PDP than in APC.
What can you say about the current APC-led federal government?
As far as I'm concerned, I joined APC in 2018, at the tail end, before the 2019 general elections, I had been in PDP since 2000, that's about 18 years. We as a group, when former governor Bukola Saraki left APC, we decided to stay back in PDP to rebuild the party. By the time we came back again the group now felt slighted because Saraki was given 60% of the executive and other positions. We that had been holding the party were asked to take 40%. It generated a lot of controversy and we all decided to go to APC. We joined the APC because of the manifesto and programmes. APC promised to fight corruption at federal level and at all levels.
APC also promised to wipe out insecurity, Boko Haram, banditry and kidnapping. APC also promised to improve the economy, but as far as I'm concerned, all Nigerians are living witnesses whether those cardinal objectives have been achieved, whether there is better security now, than before. Now we are having banditry, we have Boko Haram, we have farmers and Fulani herdsmen clashes. In the Middle Belt or Benue, we have kidnappings, rape cases and so on. Let us go to economy, some businesses of many people have folded up. As of today, a gallon of diesel is N340 per litre and a country that runs power on generators.
As I'm talking to you, diesel is 340 per litre. As at the time our government came in, a litre of petrol was N87 per litre, but today petrol is selling at N162 but in my area- Kwara North, it's N205. So, these are parts of economy at the time this government came, one Dollar was being exchanged at N180 and towards N200. Today, one Dollar is N587. Also, the living standard of an average Nigerian has reduced because the income/minimum wage has not improved. And the minimum wage- N30,000 being promised, some states are not implementing it. Let's live that aside, look at the level of corruption, it's unfortunate today that the level I have seen more young men hardly get jobs to do, it's as bad as that.
You see employment being sold, and nobody is doing anything about it and it's not good for our economy. Some of us, when we graduated from University, as far back as 1980, I had seven employment letters, to chose from. Now, you graduate, seven years you won't get any employment letter. Millions of people are into poultry business will soon close down because the feeds are now very expensive, electricity tariff has gone up. Before now, many fish ponds have collapsed, how many have you seen? The feed mill has gone up. Fish farming is folding up, as far as I'm concerned, most of the issues promised by the APC, have they delivered? I leave that question for Nigerians to decide.