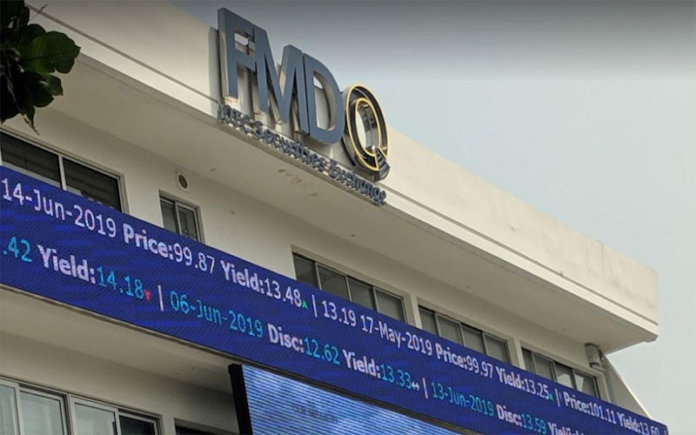 As the lull in the primary equities market persists and corporates requiring urgent short-term capital to finance running cost and stay afloat, Commercial Papers or CP FMDQ Exchange are becoming the new resort, THISDAY can report.
Data obtained by THISDAY revealed that a total of 10 securities registered N385billion worth of commercial papers on FMDQ Exchange platform between January and August of 2021.
This is just as yields on the Treasury Bills has dropped to more than three months low with average yield contracting by 13basis points to 5.4per cent last week.
Across the market segments, the average yield at the T.Bills segment declined by 34basis points to 4.6per cent.
Meanwhile, the FMDQ data also revealed that 49 securities between January and August 2021 quoted CPs worth N329.06billion on its platform.

CPs are short-term debt financing securities (no longer than 270 days in tenor) consisting of unsecured and discounted promissory notes issued by large corporations with good credit ratings, which can be readily traded.
Due to their relatively short maturity period, commercial papers are referred to as low-risk investments, offering competitive returns to investors in compensation for the issuer's credit risk.
CPs are quoted on FMDQ and traded on the FMDQ-Bloomberg E-Bond Trading and Surveillance System.
Duration for CP by securities on FMDQ Exchange is between 15-270 days and it carries a lower interest repayment rate than other money market instruments.
Companies from the manufacturing, telecommunication, oil & gas, financial services, health, agriculture, among sectors have raised cheap funds on the FMDQ Exchange CPs platform as a result of the lull in the primary equities market of the Nigerian Exchange Limited (NGX) and high borrowing rates from the banks.
Analysis of the activities at the CPs market showed that Coronation Merchant Bank Limited in the eight months of 2021 raised one of the highest CPs on FMDQ Exchange followed by MTN Nigeria and Mixta Real Estate Plc.

Coronation Merchant Bank between January and August 2021, issued 11 CPs series worth N75.25 billion while MTN Nigeria with two series of CPs and Mixta Real Estate raised N73.51 billion and N20.85billion respectively.
FMDQ Exchange in February, 2021, admitted six CPs valued at N22.29 billion from Coronation Merchant Bank with a breakdown of N1.29 billion Series 11 and N2.34 billion Series 12 CP under its N100.00 billion CP issuance.
In May, the FMDQ Exchange announced the quotation of the Coronation Merchant Bank Limited N0.71 billion Series 13 and N14.13 billion Series 14 CPs in March 2021, and the N1.41 billion Series 15 and N20.19 billion Series 16 CPs in May 2021, both under its N100 billion CP Programme, on its platform.
The company had explained that: "the net proceeds from these CPs will support the Issuer's short term funding requirements."
The MD/CEO, Coronation Merchant Bank, Banjo Adegbohungbe, in a statement said: "we are delighted at the successful issuance and subsequent quotation of the Bank's N0.71 billion Series 13 and N14.13 billion Series 14 Commercial Papers.
"This transaction further underscores the confidence of investors in our brand and entrenches our continuous leadership in the use of market instruments to create shared prosperity for all stakeholders".
Tn May this year, the FMDQ Exchange announced the approval affirming the quotation of the MTN Nigeria N19.77 billion Series 3 and N53.74 billion Series 4 CP under its N200billion issuance programme on its platform.
According to the company, the move was in line with efforts to commit to providing a reliable and credible platform to support capital formation.
Speaking on the recent CP quotation, the Chief Financial Officer, MTN Nigeria, Mr. Modupe Kadiri, stated: "MTN Nigeria is very pleased with the success of our series 3 and Series 4 CP issuances, which further diversify our funding sources, help to optimise our finance cost and strengthen the Nigerian financial markets.
"The issuance was well received by the market, with strong participation from a diverse group of investors, signifying the market's continued confidence in our business. By quoting the CPs on FMDQ Exchange, we are able to provide investors with a strong platform for liquidity and price discovery. Proceeds from the issuance will be deployed towards the company's working capital and general corporate purposes."
The likes of Union Bank of Nigeria Plc has issued about N34.97billion, while United Capital Plc has raised N22.25billion in four CPs programme.
Commenting, analysts said companies are taking advantage of cheap access to fund through the CPs programme of FMDQ Exchange.
The Managing Director, Highcap Securities Limited, Mr. David Adnori attributed trudge in corporate raising CPs through FMDQ to urgent short-term capital obligations.
He noted CPs instrument not on the NGX and a money market instrument.
Speaking on interest rate, he said: "Not that the interest rate on CP is low, just that these companies need short term fund to meet their daily business obligations. Some of these companies might be having a short fail in working capital. Short term fund is to finance working capital to remain in business. Some might have short-term opportunities to grow their businesses and decided to take advantage of CP to remain buoyant."
Also speaking, analyst at PAC Holdings, Mr. Wole Adeyeye noted that companies are taking advantage of cheap capital provided by CPs to raise fresh capital on FMDQ Exchange.
He said: "Rates are actually dropping across the board. When you look at Treasury Bills auction result last week, you will notice that rates are actually considering 91-day, 181-day and 364-day. What is happening in TB market is what is actually happening in CP
"If these companies were to borrow from banks, they would have likely gotten it at least 15 per cent interest rate. That is even because they are big corporate. If it were smaller companies, they would have probably gotten it between 18 or more interest rate."
Reacting on role played by CPs in driving these companies and economy growth, FMDQ Exchange in a statement said: "An active CP paper market provides companies with the opportunity to raise capital to meet their short-term funding obligations.
"Also, commercial papers typically do not create a lien on the company's assets, and this creates room for enhanced operational flexibility. In addition, interest on the debt is normally tax exempt and can be deducted from the company's tax return, lowering the actual cost of the loan to the company. Thus, commercial papers impact the ability of companies to remain competitive and sustainable.
"As an investment tool, CPs help to diversify an investor's portfolio thereby reducing the overall portfolio risk. The short-term nature of CPs also permits a quick return on investment and allows investors remain relatively liquid. All of these enhance a vibrant and robust financial system thereby effectively and invariably contributing to the country's economic growth and development."