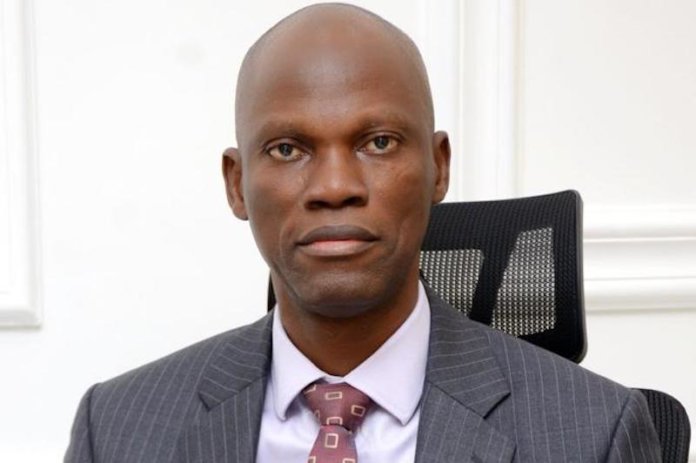 Mr. Tayo Ayinde, Chief of Staff to Governor Babajide Sanwo-Olu of Lagos State, is one of the unseen pillars behind the unfurling success story of the Lagos government, writes Omolola Olabode
One of the ironies of our system is that the skills and attributes that put someone in office are usually not the skills needed for success once they are there. But there have been exceptions to the norm, one of which is domiciled in the public service of Lagos State where Honourable Tayo Akinmade Ayinde holds sway as the Chief of Staff to the Lagos State Governor, Babajide Sanwo-olu.
Hon. Ayinde has severally been described as a quintessential leader, full of diligence, integrity, instincts, and credible actions to propel the state affairs in the right direction and above all, humility. In a world that promotes outward success, humility is one of the most difficult human virtues to achieve and develop.
In truth, time has proven that humble leaders have more influence, attract better people, and earn more confidence, respect and loyalty than those who rely upon ego and power. Therefore, the strategic choice of a man who is garbed with eloquent accomplishments both in public and private, cannot be an accident but a divinely crafted design, especially for a state that is in imperatively urgent desperation to make its mega city dream transform itself into fruition.
Ayinde is a certified accountant, security expert, entrepreneur and politician who earned his security expertise after a 16-year stint, working for the State Security Services (SSS) from 1993, harvesting along the way, a broad spectrum of experience in security and safety management including investigations, operational duties and guard force. It is always reassuring when the knowledge garnered does not fritter away by the wayside, but is gainfully deployed towards positively impacting the people one way or the other. So that definitely is a vindication of his appointment as the Chief Security Officer to the then governor of Lagos State, Senator Bola Ahmed Tinubu, a task which he executed with extraordinary zeal and unusual passion, because, as the Chief Security Detail to the then governor, he worked with other executives and security consultants operating in the state to decide on the priority of its security needs and to coordinate intelligence gathering for the State House and the Governor.
For a man destined for the top by providence, working with a political juggernaut of Tinubu's calibre could predictably have been setting him up for the bigger picture. Whether or not the picture will manifest in the foreseeable future is not in anybody's hands, but one just has to reflect on the fact that in 2014, Hon. Ayinde threw down the gauntlet into the political game of Lagos State. It did not come out in his favour but it endeared him the more to those who have been following his progress, with the manner of maturity and sportsmanship he subsequently displayed, embracing the ultimate vanquisher and equally pledging his allegiance.
Whether from close range or from a distant perspective, Ayinde depicts a man who, fortunately though, lacks that sense of faux intimacy with citizens – a common attribute of a typical politician or political appointee who is adept in the use of artifices of political illusion – because he appears too straightforward in the real sense of the word.
Ayinde who was born into a family in the once sleepy town of Ikorodu is equally God-fearing and loving, trustworthy and reliable, captures the essence of truth, displays sincerity, candor and practises what he preaches. He loves people with all his heart, might, mind, soul and striving to help them every step of the way.
He is a founding member of the ruling All Progressives Congress (APC), another icing on the cake of a burgeoning career which started at St Peters' Anglican Primary School, Alausa, Ikeja where he obtained his First School Leaving Certificate before proceeding to Ogudu Grammar School, Ojota, Lagos for his West African School Certificate. He studied Accountancy at the Federal Polytechnic, Anambra State, and obtained his Masters' degree (MBA) in Financial Management from Lagos State University. He also studied Strategic Financial Analysis for Business Evaluation at Harvard Business School, Boston, USA. At the University of London, he obtained an Executive Education Certificate in International Development.
All of the above accruements prepared him to shoulder the enormous responsibilities of the Chief of Staff to Governor Sanwo-Olu, the current governor of Lagos State. And as the COS, he is automatically the Chief Operating Officer of Lagos State whose duty is to ensure the governor's vision and programmes are understood, advanced and implemented. He devotes considerable attention to make sure the governor's staff, administration officials and state employees are focused on the governor's priorities.
He also has a formal role in the governor's office plan for emergencies, which includes developing the standard processes for managing crises, putting together an ad hoc team to address the specifics of any given emergency, and rationing the governor's visibility in a crisis.
He acts as the Chief Policy Adviser to the governor as the latter inevitably relies on him for advice on a wide range of policy issues and also ensures that the governor receives the information, analyses, and views necessary to make a decision. He also may develop the key themes and directions of the governor's budget or legislative message, leaving details to the budget or policy director. Good to know that he is discharging all these meritoriously as the government of the day in the right direction to fulfill its Greater Lagos mantra.
Despite these huge tasks placed on his shoulders by the state, Ayinde is a natural philanthropist who always tends to be empathetic toward the struggles of others. He constantly empowers widows and young men and women. This particular distinctive trait stands him apart from the bunch as a truly emerging leader of the people. He is a committed supporter of universal human values and an advocate of support for the less privileged. He has strong belief in empowerment and in the opportunity of prosperity for all. He is involved in many charities and initiatives to help the poor and the sick. He is also dedicated to helping young people for whom he strives to be a model. His main aim in life can be summarised as working hard to be considered by others as a life of giving and a God-sent to many, especially the less privileged.
He is a prominent donor to SOS Health Response in Lagos State. Owing to his philanthropic gestures and love for provision of education for all Lagosians, he was also conferred with the title of Patron, School and Community Library Project, Lagos State. He is also a member of Education Support Group, Lagos.
QUOTE
And as the Chief of Staff, he is automatically the Chief Operating Officer of Lagos State whose duty is to ensure the governor's vision and programmes are understood, advanced and implemented. He devotes considerable attention to make sure the governor's staff, administration officials and state employees are focused on the governor's priorities. He also has a formal role in the governor's office plan for emergencies, which includes developing the standard processes for managing crises