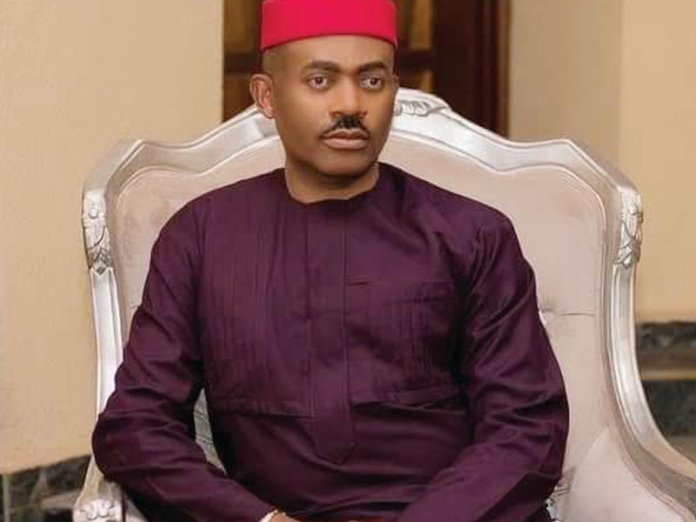 The Accord Party governorship candidate in Anambra State, Dr. Godwin Maduka, exemplifies the excellence of the spirit of the state, writes Nseobong Okon-Ekong
Everyone says Anambra State has its peculiarities when it comes to politics. And they are right, in more ways than one. The first publicised incident of seizure of a serving Nigerian governor by a gang of roughnecks was recorded in Anambra, when Chief Chris Uba, the self-styled godfather of Anambra politics held former Governor Chris Ngige against his will for failure to fulfil an oath that he was compelled to take at a voodoo shrine at Okija. Uba was 37 years old in 2003, at the time of this heinous act.
One thing that stands the South-east state out is its abundance of wealthy men and women. Anambra has the highest number of millionaires and billionaires in Nigeria, who are fiercely competitive in every field. The volume of financial transactions coming out of the Anambra towns of Onitsha and Nnewi on a daily basis is humongous! Their aggressive manner with which the average Anambra millionaire/billionaire gets things done has registered positive impact throughout its 181 towns and over 170 autonomous communities. The role of the President General of these town unions, which often clashes with that of the traditional ruler, is very crucial as it serves as a major catalyst for groundbreaking transformation of the landscape. The state comes tops in communal infrastructure and projects masterminded and executed by individuals, without any help from government. These include hospitals, roads, stadiums, worship centres, schools and markets.
One of the best individuals who exemplifies the excellence of the Anambra spirit is Dr. Godwin Maduka, the American-trained triple Professor and Pain Specialist. His grass-to-grace story typifies the can-do capacity of an Anambrarian. Single-handedly, Maduka lifted his community from the dunghill of embarrassing poverty to the cheerful ladder of hope. On his steam, Umuchukwu, his community in Orumba South local government area, is home to a 17-floor building for medical research, arguably the tallest structure of its kind in Africa. He has built a Magistrate Court and a High Court, living quarters for judges; work space and accommodation for men and officers of the Nigeria Police and the Nigeria Security and Civil Defence Corps, a multi-purpose community centre, connecting roads, worship centres, schools, markets and homes for the indigent. Maduka's socio-economic intervention in Umuchukwu is unquantifiable.
As he told a group of journalists recently at the offices of Godwin Madula Foundation in Awka, the Anambra State capital, he is not as fresh on the political scene of Anambra as many believe. All the while, he has been the unassuming tycoon, providing the financial muscle, behind many successful politicians in the state; albeit without the notoriety of a Chris Uba. While the evidence of his philanthropy is in your face everywhere in Umuchukwu, he has been moving sure-footedly across Anambra, building rewarding friendships and connecting with associates that would serve his political interest on a day like this.
Last week, Maduka whose ambition to govern Anambra State on the platform of the Peoples Democratic Party (PDP) ran into stormy weather, re-tooled his ship and set sail again for Government House, Awka. This time, his choice vessel is Accord, the Independent National Electoral Commission (INEC) recognised political party, that is Number One on the ballot paper. This strategic point was one of the compelling reasons that influenced his choice of Accord, among other factors like sharing the same vision with the National and State Chairman of Accord. "The voting exercise requires use of the thumb. The Thumb is the symbol of Accord. People can easily connect to this symbol," he reasoned.
Constantly in search of new turf to exert power, in a bid to outdo one another, Anambra billionaires from the 21 local government areas of the state may be said to shower attention on their homestead more than any other part of the country.
There is little wonder then that having conquered the world of commerce, industry and business with great accomplishments, these tycoons hunger for an opportunity to leverage on the apparatus of government to improve on their environment. This is when politics beckons. Therefore, anytime there is a contest for public office, the field is usually crowded with eager, qualified financiers willing to give it a go. The pool of aspirants in the PDP where Maduka took his first shot was expectedly large.
All eyes have been on Anambra since INEC revealed the date of its governorship election as November 6. Starting from late June when the supposed three major political parties in the election; All Progressives Congress (APC), All Progressives Grand Alliance (APGA) and the Peoples Democratic Party (PDP) held their governorship selection process, many aspirants who were muscled out, but are convinced that they can go ahead to test their popularity have moved on to actualise their dream to govern Anambra on the platform of other political parties. Eleven of the 14 governorship aspirants of the APC in Anambra State have said that the June 26 governorship primary in the state did not hold. The governorship primary of the PDP in Anambra State was held on the same day by two separate factions. In APGA, the situation is not different. The three big parties in Anambra have a cloud of uncertainty hanging over their governorship bid.
With this in mind, the field is wide open for exploits from Maduka who has garnered wide acceptance across the state. His conviction and that of his followers is that had the PDP primary followed the expected course by allowing thousands of duly accredited delegates vote for their choice governorship aspirant, Maduka would have won the PDP ticket. Disappointed at the turn of events, his teeming supporters decided right at the venue of the primary to pull out of the PDP and go with Maduka, wherever he pitched his tent.
Dr. Maduka may be said to have picked up a few lessons, from how he ended his PDP campaigns, which will serve him better in his new prospect. Chief Bartho Igwedibia, Chairman, Accord, Anambra State believes the party can produce the next governor of the state. When this happens, "Anambra, he said, "will witness a boom in medical tourism, food production, empowerment generation for women and youths as well as security."
What's more, with so much reference to his capabilities to deliver on his campaign promises, Maduka could not have a better broad theme to capture his aspiration in one word. He sums it up as 'Evidence'. Indeed, testimonies abound everywhere in Anambra of the number of people who have benefitted from his kindness; students on full scholarship, artisans acquiring life skills, widows given a lifeline and functional infrastructure powered by him in various communities. If Anambrarians want evidence of an accomplished performer who can build a new Anambra of their dream, they need not look any further, the unassailable evidence is in Maduka!
QUOTE
Maduka whose ambition to govern Anambra State on the platform of the Peoples Democratic Party (PDP) ran into stormy weather, re-tooled his ship and set sail again for Government House, Awka. This time his choice vessel is Accord, the Independent National Electoral Commission (INEC) recognised political party, that is Number One on the ballot paper