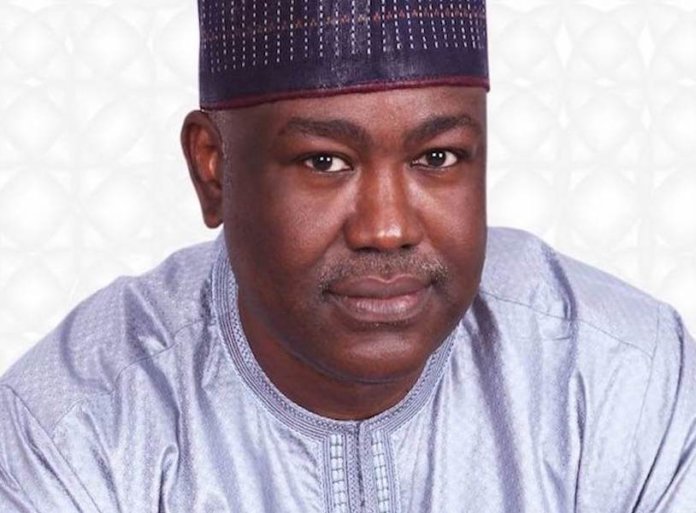 Nseobong Okon-Ekong writes that Mr. Gbenga Olawepo-Hashim, presidential candidate of the Peoples Trust in the 2019 national elections is expected to announce his membership of one the 18 registered political parties soon
At one of the meetings in the critical days leading to the 2019 national elections, Gbenga Olawepo-Hashim confidently fielded questions from journalists at a high-brow hotel in Victoria Island, Lagos. The sessions had become, somewhat, regular as he adopted the select group of journalists as an important think-tank that he traded ideas with on his presidential ambition. At the time, he was funding a new political organisation, widely advertised as the Thrid Force, besides the two major political parties. The group, the Alliance for New Nigeria (ANN) had become an umbrella for fresh faces, who offered a viable alternative to Nigerians. The likes of Mr. Fela Durotoye and Dr. Elishama Ideh were jostling for the presidential ticket of the party with Olawepo-Hashim.
The ANN itself had emerged from a broad-based political movement, the National Intervention Movement (NIM), which was populated by Olawepo-Hashim's erstwhile comrades in civil society. His antecedents as a students' union leader at the University of Lagos who was resuscitated for leading the popular anti-SAP protests against the military government in 1989 and suffered a period of incarceration as a prisoner of conscience, ensured a secure base for him in the human rights community.
From his calculations and those of many political pundits, Olawepo-Hashim who was obviously the most experienced in politics of the lot, having been a member of the National Executive Committee of the Peoples Democratic Party (PDP), as its founding Deputy National Publicity Secretary and 2007 governorship candidate in his home state of Kwara, looked good to clinch the ANN presidential ticket. Everything was going well, or it seemed, until the tables changed, as they are won't to in politics. Ideh was the first to raise an alarm of an imminent hijack of the party. As the lone female contestant fo its r presidential ticket, her cries were drowned. She pulled out of the race. Events of the next few days were swift, while Olawepo-Hashim was still trying to garner support for his ambition, a former spokesperson of the party was chosen by a faction led by Durotoye as National Chairman of the ANN, causing a major split in the party. This faction went ahead to conduct a primary in which Durotoye, who was rumoured to be sponsored by Vice President Yemi Osinbajo, emerged as its presidential candidate. Olawepo-Hashim licked his wound quietly and sought another platform to further his interest for the presidency of Nigeria.
Shutting the door against the intrigues that trailed his exit from ANN, Olawepo-Hashim chose to focus on his presidential dream. In the early days of October, 2018 at the Lagos Convention of the People's Trust (PT), a scion of the late sage, Chief Obafemi Awolowo dynasty and PT presidential aspirant, Lady Olufunke Awolowo stepped down for Olawepo-Hashim, creating the opportunity for the National Intervention Movement (NIM), the People's Trust (PT), and the Alliance for New Nigeria (ANN) to jointly settle for Olawepo-Hashim as their presidential candidate.
What followed was a season of endorsements from other political associations. The new alliance attracted one dozen more endorsements for Olawepo-Hashim. It signposted a deft move to steer away from the lingering crisis of confidence in the splinter ANN. Among 14 presidential aspirants who were screened by the Middle -belt Elders Forum, competent Olawepo-Hashim was among the four who were shortlisted for the position.
It was an encouraging moment for the former activist on noticing his widening endorsement. He enthused, "Our spirit is unstoppable and I am determined to go all the length to propel this country to a new greatness, where the average citizen will be happy, free and prosperous. We will work together and ensure Nigeria work. Our government is not going to be about ethnicity, or religion, but about jobs, progress, prosperity, freedom and happiness for our people. I promise to be a president who will defend all. I promise to be a true Nigeria president. I take this confidence in me as a call to duty to make our democracy prosper and I am gratified by it and will do everything possible not to disappoint the endorsing groups."
After connecting with his ancestry in Kebbi State, he added Hashim to his previous surname and adopted the compound surname Olawepo-Hashim to describe his multiple ancestry in the North, South-west and Middle-belt of Nigeria. His supporters began to promote him as a bridge-builder, who could foster national unity and give comfort to every Nigerian.
In the last quarter of year 2020 Olawepo-Hashim's company Tansnational Energy Limited won a case against the Federal Government in court and was awarded USD20 million damage when a Federal High Court in Abuja restored the Hely Creek and Abigborodo fields in OML 49 farmed-out to Transnational Energy Limited by Chevron/NNPC (Joint Ventures partners) back to company, Transnational Energy Limited. Along with his reputation as an activist, he is also known as a mega businessman and partisan politician.
A quiet philanthropist and devout Christian, Olawepo-Hashim has impacted on so many lives positively. Many testify to the fact that everyone who comes within his circle of influence becomes transformed for good.
The February 23, 2019 presidential election had 68 candidates of that number of political parties on the ballot box including Olawepo-Hashim of the People's Trust (PT). The election was won by President Muhammadu Buhari of the All Progressives Congress (APC) with 56 percent of the votes, which equalled 15.2 million votes, the second place with 11.3 million votes went to Atiku Abubakar's People's Democratic Party (PDP). The election turnout was 35.6 percent, according to the Independent National Electoral Commission (INEC). Olawepo-Hashim and his running mate, Dr. Agwuncha Nwankwo of PT could only muster 2613 votes.
This was a far cry from his 2007 performance as first runner-up in the Kwara State governorship contest in which he carried the flag of the opposition Democratic Peoples Party (DPP).
Rejecting the result, Olawepo-Hashim opined that the number of votes recorded for him did not reflect his extensive popularity across the country and the coalition of political parties and their presidential candidates that stepped down for him. Like the PDP Presidential candidate in the election, Atiku Abubakar in that election who chose a South-easterner, Mr. Peter Obi, Olawepo-Hashim also shopped for a running mate among the Igbos. He was convinced that the synergy between him and Dr. Nwankwo, a respected rights activist and influencer in Igboland, the support from leaders of the Middle-belt Forum and the intervention from the traditional institution in the North will combine with his perceived popularity with Nigerian youths to create an upset in his favour in the 2019 presidential election.
Going by his activities after the presidential election, Olawepo-Hashim has maintained a commendable visibility in the media by making salient commentary on national and international issues as they occur. However, he has managed to keep a middle course on most discourse, preferring to build than issue destructive statements. When he criticises, it is often constructive and not without tangible options.
With the deregistration of 74 political parties, including PT, by INEC last year, many former presidential candidates have collapsed their former political structure and merged with the 18 political parties recognised by INEC. As this development gains ground, not a few have questioned where Olawepo-Hashim may pitch his political tent. Will he join his former allies in the PDP or work with the ruling APC at the centre since he has chosen the Federal Capital Territory as his political base?
QUOTE
Olawepo-Hashim opined that the number of votes recorded for him did not reflect his extensive popularity across the country and the coalition of political parties and their presidential candidates that stepped down for him. Like the PDP Presidential candidate in the election, Atiku Abubakar in that election who chose a South-easterner, Mr. Peter Obi, Olawepo-Hashim also shopped for a running mate among the Igbos. He was convinced that the synergy between him and Dr. Nwankwo, a respected rights activist and influencer in Igboland, the support from leaders of the Middle-belt Forum and the intervention from the traditional institution in the North will combine with his perceived popularity with Nigerian youths to create an upset in his favour in the 2019 presidential election. Going by his activities after the presidential election, Olawepo-Hashim has maintained a commendable visibility in the media by making salient commentary on national and international issues as they occur